BURTON
All enquiries about any of the following in writing, enclosing a stamped SAE to:
Keeper of Burton Archives, 2 Station Lane, Burton in Kendal, Via Carnforth. LA6 1HT

The bulk of the archives include Burton-in-Kendal, Clawthorpe and Dalton information. There is also a lot of info on Farleton, Beetham parish, plus items on all the parishes surrounding Burton-in-Kendal and Holme in the county of Cumbria.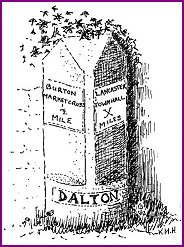 Books, extracts, leaflets
Census Returns: 1841, 1851, 1861, 1871, 1881, 1891, 1901
Church, gravestones, vicarage
Directory extracts 1829 onwards
Drawings
Events
Farms, land, properties
List of holdings in the Kendal Archives
Magazine & newspaper items
Maps
Members' projects
Memorial Hall, Burton
Organisations, clubs, societies
Photographs
People
Registers of electors, parish council
Schools
Transport, roads, railway, canal, footpaths